Apple has introduced MacBook Air, a computer the company has billed as the world's thinnest notebook. It's so thin it fits in a manila envelope.

"The Macbook Air runs from 0.76" to 0.16" (that's not a typo.) The thickest part of the MacBook Air is thinner than the thinnest part of the TZ series (Sony's thinnest laptop). So thin it fits in a manila envelope." - Apple

Below are the pictures of the Macbook Air notebook from macworld.com when Apple CEO Steve Jobs introduced the MacBook Air during the Macworld Expo keynote address.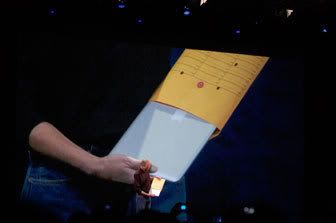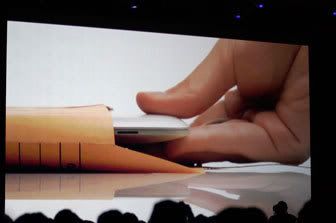 Sporting a silvery finish, the MacBook Air features a 13.3-inch LED-backlit widescreen display that has a 1280 x 800 pixel resolution. It weighs about 3 pounds, and has a thickness of 0.16-0.76 inches. It's 12.8 inches wide and 8.95 inches deep.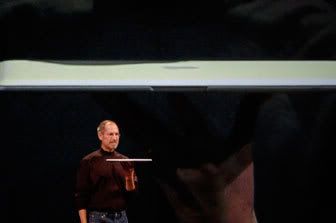 The MacBook Air is powered by an Intel Core 2 Duo chip running at 1.6GHz, with 1.8GHz available as an option and includes a 1.8-inch hard disk drive with 80GB of storage capacity. Apple estimates that with wireless networking turned on, the MacBook Air can get about 5 hours of battery life.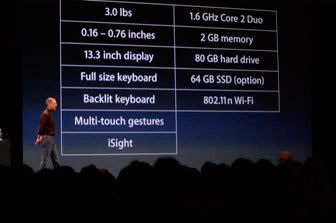 According to Steve Jobs with environmental goals behind the MacBook Air, it has a fully recyclable aluminum case, and is "the first" to have a mercury-free display with arsenic-free glass too.

The MacBook Air notebook is priced starting at $1,799.


Related articles :